Brompton Bicycle in Japan, Ace Hotel/tokyobike in London
Two brands of bicycle are proving real hits with riders in London and Japan.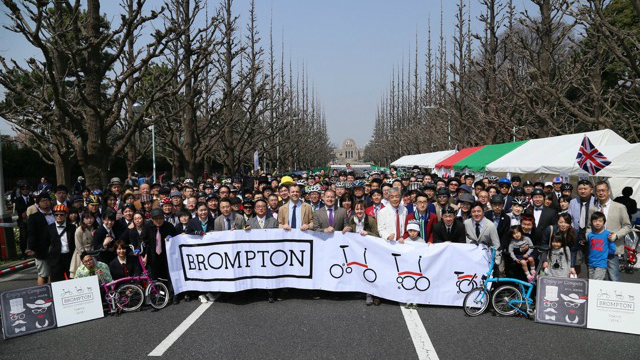 日本語訳は英文の下にあります
Across London and in Japan, growing numbers of commuters and visitors are turning to the bicycle as a quick, healthy and effective way of getting around town.
Brompton Bicycle in Japan…
Brompton first started to sell its iconic folding bikes to Japan in 2003. Today, the country is one of the company's fastest growing and most important markets. Working with its distributor Mizutani, who have been fundamental to the company's growth in Japan, Brompton bikes are sold throughout Japan. Two of the company's ten Brompton Junction stores, which hold the full range of Brompton products and have specially trained staff, are in Kobe and Tokyo.
A variety of fan-led clubs has emerged, including the Brompton Tokyo club which has over a thousand members and organises regular Brompton rides.
Proudly made in London, its home city currently has about 80,000 Bromptons on the road. With demand for genuinely portable bicycles on the rise, there's no reason why a city like Tokyo can't match that number.
What's next?
"As we see mass migration to cities, the need for bikes as a mode of transport increases," says Quinton Pullinger, Brompton Bicycle's head of operations in Asia Pacific. "The current employee insurance laws are restricting cycling to work and our challenge with our partners is to help improve this. The Tokyo 2020 Olympics offers a great opportunity to improve cycling culture, infrastructure and legislation for future generations."
 …and Tokyobike in London
Before it opened its first European hotel in London's fashionable Shoreditch, Ace Hotel had reached out to Japanese bicycle maker tokyobike in order to make some custom coloured bikes for its guests. The teams at the two companies had become friends while working on the hotel, so it was a no-brainer for Ace to invite tokyobike to add to the guest experience.
Guests don't just get the bikes but also helmets, locks, tips on where to go, and even a healthy picnic. 
A successful collaboration
It was the success of this guest loan scheme that led Ace Hotel and tokyobike to take their collaboration one step further in May this year - to launch a limited edition, single speed bicycle together. These bikes are available to ride and buy in the London and downtown Los Angeles hotels, as well as online and in tokyobike stores globally. With early healthy sales, the collaboration between the London hotel and the Japanese bicycle maker looks set to develop further.
ブロンプトン・バイシクルが日本へ、エースホテル/トーキョーバイクがロンドンへ
ふたつの自転車ブランドが、ロンドンと日本で大ヒット
ロンドンでも日本でも、通勤通学や観光の際に、素早い移動手段として健康的で便利な自転車を選ぶ人が増えています。
ブロンプトン・バイシクルが日本へ… 
英国ではおなじみのブロンプトン(Brompton)折りたたみ自転車。日本では2003年に販売を開始し、今では同社にとって、世界で最も急成長している最重要市場となっています。現地公式代理店ミズタニ自転車がブロンプトンの自転車を日本全国で販売し、日本でのブロンプトンの成長に欠かせない役割を果たしています。ブロンプトンは、全製品モデルを揃え専門トレーニングを受けたスタッフを置く旗艦店「ブロンプトンジャンクション」を10店舗展開していますが、そのうち2店舗は日本の神戸と東京にあります。
ブロンプトンファンが集まって作るクラブも現れ、中でもブロンプトン東京クラブ[YD1] は1,000人を超えるメンバーを擁し、定期的にブロンプトンサイクリングイベントを開催しています。
"Made in London"を誇るブロンプトンだけに、現在ロンドンでは約8万台のブロンプトン自転車が使用されています。本当に持ち運びできる折りたたみ自転車への需要が高まっている今、東京でもこの数を達成できない理由はありません。
次は?
ブロンプトン・バイシクルのアジア太平洋事業責任者クウィントン・プリンジャー氏は、「都市部への大規模な人口流入が起きている今日、交通手段としての自転車の需要が高まっています。現行の雇用保険法制は自転車通勤普及の障害になっており、当社にとってはパートナー各社と協力してこの状況を改善することが課題です。2020年東京オリンピックは、未来の世代のために自転車文化を向上しインフラ、法制整備を改善する絶好の機会となります」と言います。
…そしてトーキョーバイクがロンドンへ
ロンドンのおしゃれなショーディッチ地区に欧州初のホテルをオープンさせた、ホテルチェーンのエース。エースは宿泊客用にカスタム色の自転車を注文しようと、日本の自転車メーカー「トーキョーバイク」にアプローチしました。このホテルのプロジェクトに携わっているうちに、2社間に友情が芽生えたことから、エースが宿泊客体験にも手を貸してくれとトーキョーバイクに呼びかけたのは、自然の流れでした。
宿泊客には自転車だけが貸し出されるのではありません。ヘルメット、ロック、行き先ヒントや、途中で食べるヘルシーな軽食まで用意されます。 
成功を収めているパートナーシップ
この宿泊客向けレンタル制度の成功を受けて、エースホテルとトーキョーバイクは今年5月に提携関係を新たなステージに進め、共同で限定版の単速モデルをデザインしました。このモデルはロンドンとロサンゼルスダウンタウンのホテルでレンタル、購入できるほか、世界各国のトーキョーバイク店舗やオンラインストアでも扱っています。発売後の売上は好調で、エースホテルロンドンとトーキョーバイクのコラボレーションは今後さらに広がっていきそうです。
>Back to 'London and Japan: The Power of Parntership'. ロンドンと日本:パートナーシップのパワー 
How we can help
London & Partners offers free advice to potential and existing overseas investors, from start-ups to established companies.