Mitsui Fudosan UK at White City
A huge area of west London is being redeveloped by a partnership between Japan and Britain.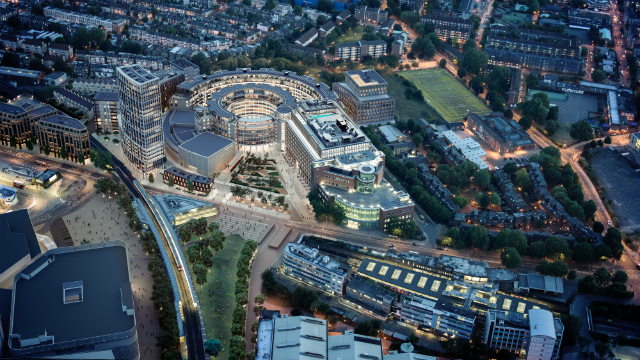 日本語訳は英文の下にあります
In 1910, just two years after being the site of London's first Olympic Games, White City in west London hosted the Japan-British Exhibition. It was visited by more than eight million people over six months and remains in the record books as one of the greatest-ever displays of Japanese commerce and culture. Now east meets west again in White City, as part of this area is now the largest-ever city development in London by a Japanese company.
Overview
In two separate but adjacent developments (the old BBC Television Centre and White City Place) Mitsui Fudosan UK, the European headquarters of the Mitsui Fudosan Group, and its UK partner Stanhope are creating a mighty campus for the creative industries.

Work commenced on the Television Centre site three months ago. The landmark 14-acre (56,650m2) site will become a mixed-use development with 350,000 sq ft (32,500 m2) of offices, a hotel run by Nick Jones' Soho House group, restaurants and 950 new homes including 142 affordable flats. "This site has a great legacy of being the world's first purpose built centre for television production," says Hideto Yamada, Managing Director of Mitsui Fudosan UK. "We want to retain and maximise those values." The development will pay homage to the original use of the building and keep many of the original features of the much-loved listed buildings including the famous "doughnut," atomic dot wall and Helios statue.

Neighbouring White City Place is a 17-acre (69,000 m2 ) site. Three buildings will continue to be leased to the BBC as a long-term occupier in a new urban business park that will be designed to appeal to young, growing creative, digital and technology businesses. "We are creating a fresh and vibrant business destination in west London," says Yamada.
A successful partnership
Mitsui Fudosan is no stranger to London, having invested in and developed properties in the city for more than 30 years. But the scale and the unique Anglo-Japanese history of White City is something that makes Hideto Yamada feel "very proud" of the company's role. "We want to work with London's long-term vision and deliver it together," he says.
英国三井不動産がホワイトシティに
日英間のパートナーシップにより、ロンドン西部の広域再開発が進められています。
ロンドンで初めてオリンピックが開催されてからわずか2年後の1910年に、ロンドン西部のホワイトシティ地区で、日英博覧会が開催されました。6ヶ月間の開催期間中800万人を超える観客が訪れ、今でも日本の商業と文化を紹介した史上最大のイベントのひとつとして記録に残っています。
概略
そして今ホワイトシティは、日本企業がロンドンで取り組む過去最大の都市開発プロジェクトを通して、再び東西交流の舞台になります。
旧BBCテレビジョンセンターとホワイトシティプレイスという隣接する2つの再開発プロジェクトで、三井不動産グループの欧州本部である英国三井不動産が、英国のパートナー企業スタンホープ社と共に、クリエイティブ産業の巨大キャンパスを創り出します。
テレビジョンセンター跡地の工事は3ヶ月前に開始しました。地域の顔だった同センターの跡地は14エーカー(56,650平米)で、開発後は床面積計35万平方フィート(32,500平米)のオフィススペースや、ニック・ジョーンズ率いるソーホー・ハウスグループが経営するホテル、各種レストラン、そして住宅950戸(うち142戸は低価格住宅)で構成される複合用途施設に生まれ変わります。英国三井不動産代表の山田秀人は、「この跡地は世界で初めてテレビ番組制作専用のセンターとして建設された歴史的遺産です。この価値を残し、最大限に生かしたいと考えます」と言います。同再開発プロジェクトでは、「ドーナツ」の愛称で親しまれた円形ビルや「原子ドットの壁」、太陽神ヘリオスの像などの登録歴史建造物を含め、旧センターの個性をできる限り残して、テレビジョンセンター時代の面影にオマージュを捧げます。
隣接するホワイトシティプレイスは17エーカー(69,000平米)の敷地で、新興、成長中のクリエイティブ、デジタル、テクノロジー産業の誘致を狙う都市型ビジネスパークになりますが、3棟のビルは引き続きBBCにリースされます。山田代表は「ロンドン西部に新鮮で活力のあるビジネス地区を創造します」と言います。
成功を収めているコラボレーション
三井不動産は過去30年以上ロンドンで不動産投資・開発を行っており、ロンドンには馴染みがあります。しかし今回は、日英交流の歴史があるホワイトシティでのかつてない大規模開発ということで、山田代表は同社が果たす役割を「とても誇りに思う」と述べ、「ロンドンの長期的ビジョンを生かし、実現していきたい」と語りました。
>Back to 'London and Japan: The Power of Parntership'. ロンドンと日本:パートナーシップのパワー
How we can help
London & Partners offers free advice to potential and existing overseas investors, from start-ups to established companies.