University College London and Eisai
The Japanese pharmaceutical company Eisai and University College London (UCL) share a long and illustrious history of working together.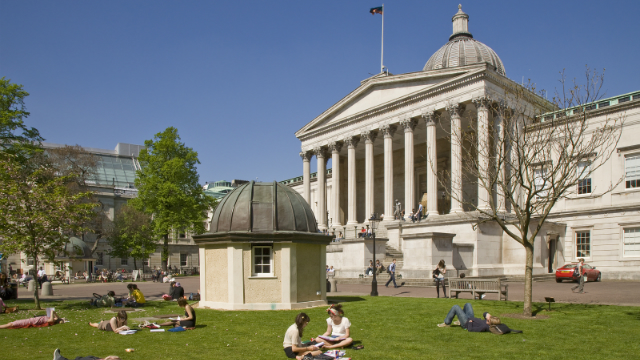 日本語訳は英文の下にあります
The next pioneering phase of this partnership is under way, as UCL and Eisai drive forward the discovery and development of novel therapeutic agents for the treatment of neurological diseases such as Alzheimer's, Parkinson's and other related disorders.
The partnership brings together UCL's expertise in world-class early stage translational research with Eisai's drug discovery and development capabilities in a highly interactive and novel approach to industry-academia collaboration.
Overview
Collaboration between industry and academia is not in itself new but the Eisai/UCL partnership is distinctive both in its scale and structure.
A group of scientists, funded by Eisai and employed by UCL, has been recruited to translate academic findings into focused drug discovery projects. A dedicated UCL research collaboration group has been formed by Eisai to work closely with colleagues at UCL. To date, this model has delivered four exciting new research projects and new proposals are being actively explored.
A successful collaboration
The alliance forms a major part of Eisai's open innovation initiative and supports UCL's wider enterprise strategy to explore external ideas and paths to drug discovery through partnership. In recognition of the strong commitment shown towards the collaboration, Eisai was awarded the UCL Enterprise Corporate Partner of the Year Award 2014.
"We all know that partnerships and collaboration are absolutely essential to success but they can be difficult to achieve,"says Professor Alan Thompson, Dean of the Faculty of Brain Sciences at UCL.
"It is a unique and innovative partnership which we have taken care and time to establish such that it will provide a truly enabling platform for joint working. I am sure that this model will be seen as an exemplar and will be highly productive going forward." 
ユニバーシティ・カレッジ・ロンドンとエーザイ株式会社
日本の医薬品会社エーザイとユニバーシティ・カレッジ・ロンドン(University College London、UCL)は、長年にわたって実りある協力関係を共有してきた歴史があります。
このパートナーシップの次のステージとなるのが、UCLとエーザイが共同で推進する、アルツハイマー型認知症やパーキンソン病などの神経疾患に対する新規治療薬の新薬探索・開発です。
UCLは初期段階のトランスレーショナル・リサーチで世界を主導しており、その専門知識とエーザイの新薬探索・開発力を合わせることで、対話型の新機軸民学提携が実現します。
概略
産業界と学会の共同プロジェクトは新しいことではありませんが、エーザイ・UCLパートナーシップがユニークなのは、その規模と構成です。
エーザイが資金を出しUCLが雇用する科学者のグループが、学術的研究の成果を創薬に絞り込んだプロジェクトに変えていく作業を進めるべく編成されました。エーザイでは社内にUCL研究提携専門グループを設置しており、UCL研究者と密接に協力します。これまでに、このモデルを使ってすでに4件の大胆な新研究プロジェクトが生まれており、また新しいプロジェクト案の検討も進んでいます。
成功を収めているパートナーシップ
この提携関係はエーザイのオープン・イノベーション構想の重要な鍵であり、またUCLにとっては、パートナーシップを通じて学外のアイデアやルートを創薬に生かすという幅広い事業戦略を支えています。エーザイは、協力関係への積極的な取り組みを評価され、2014年 UCLエンタープライズパートナー賞を受賞しています。
UCL脳科学部長のアラン・トムソン教授は、「成功のためにパートナーシップや提携が絶対に欠かせないことは誰でも知っていますが、実現するのは難しいものです」と述べました。
また、「これは協働を本当に実現可能にするためのプラットフォームとなるよう、注意深く時間をかけて確立してきた、ユニークで革新的なパートナーシップです」と言います。
How we can help
London & Partners offers free advice to potential and existing overseas investors, from start-ups to established companies.
>Back to 'London and Japan: The Power of Parntership'. ロンドンと日本:パートナーシップのパワー