Tailored support to grow
Our free programme is designed so that the guidance, skills development and support you receive is tailored to your business growth ambition and potential. Providing strategic solutions to growth barriers, our industry experts will work alongside you to identify the critical steps to successfully develop your business in London. This programme is fully-funded by the European Regional Development Fund and London & Partners, offering up to £5,000 worth of specialist support.
London & Partners' Business Growth programme offers impartial business advice and support to businesses based in London with fewer than 250 employees and turnover of less than £40m looking to grow across London and the outer boroughs. We can help unlock your business potential by identifying barriers to growth and providing strategic solutions including mentoring, workshops, business growth advice and opportunities across our London network.
Develop a Growth Plan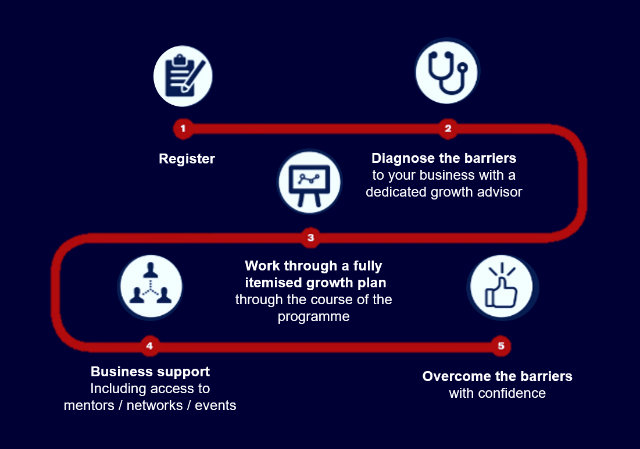 The programme provides access to:
A dedicated business growth advisor - Minimum 12 hours tailored advice and guidance including review of expansion plans and a diagnostic process to match your company's needs with the relevant support saving valuable management time and resources
Mentors - Access to experienced and commercially successful experts who support and challenge ambitious companies, helping build the foundations for business growth
Local Business Support - Introduction to a full range of London & Partners' professional service providers
Focused workshops and events in London - Opportunity to learn from expert advisers and peers
Supply chain development - Opportunity to collaborate with larger corporates with major operations in London seeking access to innovation by opening up supply chains
Is my business eligible?
The London & Partner's Business Growth Programme provides free business support to ensure that SMEs in the Life Sciences, Digital/Tech, Creative, Media and Telecoms sectors have the skills and guidance to successfully grow their business.
Be based in London
Have fewer than 250 employees
Have a turnover of less that £40m