Lewisham: Creative thinking with advanced technology
Lewisham is where architects, designers and artists practice their craft side by side, helped by exceptional talent, technical know-how, and great connections to the rest of London.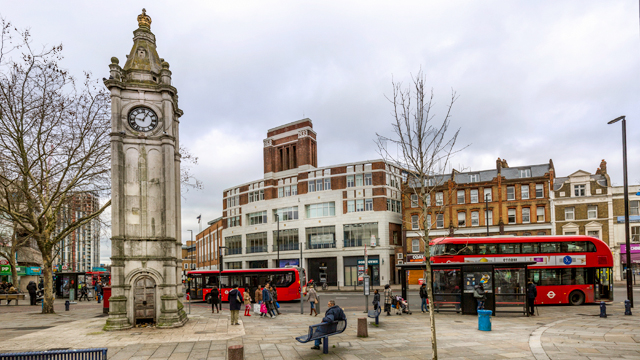 Like many boroughs, Lewisham is undergoing transformation and regeneration, and the fast-growing creative and digital industry (CDI) sector is fuelling its growth.  It's a sector that is expanding at break-neck speed here, with 62% business growth over the past five years according to the ONS - compared to growth across London as a whole of 40%. And it brings productivity: a full time worker in the creative sector here brings £210,000 of annual value to their business and to the borough.
There are at least two reasons why Lewisham is a creative tour de force. First comes talent. It's home to the world-class Goldsmiths University of London, a leading centre in the UK for research and new learning for and with partners in the creative industries; covering sectors including music, games, VR/AR, design, film, television, journalism, arts and theatre. From Damien Hirst to James Blake and Steve McQueen, Goldsmiths has nurtured some of the most important cultural figures of the last 50 years. A locus for some of the world's most creative and ambitious minds, the University attracts bold, innovative people – who make Lewisham their home, too.
Goldsmiths has acted as a feeder for a supply of creative and artistic residents in the borough; which also hosts the Trinity Laban Conservatoire of Music and Dance where young people come to study for a career in the performing arts. It also hosts performances, and is a key driver behind Lewisham Live, an annual festival of music and dance for young people. The event in 2017 saw an astonishing 2,000 youngsters perform on professional stages across 15 events at eight different venues borough-wide.
Second is diversity; not just culturally but creatively. Lewisham hosts product designers, graphic artists, marketing specialists, filmmakers, broadcasters and musicians and architects, all living cheek-by-jowl. Forest Hill, for example has three recording studios (The Fold, Novacane and Whirled) within 200m of each other. And creatives here are supported by ready expertise in technology at the cutting edge of media: key sectors include IT, software and computer services and digital product design. For example, not only does Goldsmiths have a motion capture suite (used for 3D gaming and interactive experiences), it runs an innovation voucher programme that offers discounts to local businesses for consumer psychology and user experience testing of advanced media.
Opportunities to get started at low cost Performance has been at the heart of the borough for generations. The Broadway Theatre in Catford is a glorious art-deco, 800-seat venue that hosts music and theatre, and is host to one of the UK's leading black theatre programmes, particularly thanks to the Blue Mountain Theatre Company. It is also home to the annual pantomime season ("Oh no it isn't"… "oh yes it is!")
In New Cross, the London Theatre is a boutique studio that hosts fringe performances by new writers. Here you will also find the London Comedy Course, where would-be stand-up comics can hone their skills.
But in the age of the pop-up store, Lewisham is doing its best to remove the barriers from creatives, giving them a chance to develop businesses collaboratively and without high startup costs. Emblematic of this pioneering vision is the Old Police Station. Based in Amersham Vale, Deptford, this houses 42 artists' studios, a gallery, an internet radio station and a pop-up cocktail bar. Similar is The Albany in Deptford, which offers performance and rehearsal spaces plus a respected young creatives programme; as well as hosting 24 resident creative companies. Both work closely with the council offering spaces at affordable, sustainable rents for those in the creative sector. All contribute to Deptford X, a 10-day visual arts festival now in its 19th year, that supports grassroots and budding professional artists in showcasing their talents.
Elsewhere, the new Deptford development has targeted startups in the creative sector for its new workshop and studio units; and Kent Wharf has earmarked its nearly 16,000sq. ft. of commercial space for small businesses and charities in the creative sector.
This corner of London has spawned a raft of big names from the creative world, including musicians Kate Bush, Mica Paris and Gabrielle (even Jimi Hendrix lived here for a time!); plus actors Glenda Jackson, Gary Oldman and Jude Law. Art and design are in the borough's DNA; and it offers more than just a plethora of former workshops that it encourages for affordable use by artists and designers. Lewisham's vision is to bring these people together to resource the next creative revolution: one driven by digital skills.