About the programme
Individually tailored towards your business, this free 12-month programme provides world-class support and advice for your international business success, including bespoke, on-the-ground support in your key global markets.
Companies join the programme in cohorts, giving you a unique opportunity to collaborate and share knowledge with others in your sector.
What's on offer?
One-to-one and one-to-many mentoring and ongoing guidance from entrepreneurs and business leaders.
Focused workshops and events that provide the opportunity to learn from expert advisers.
Exclusive connections to top corporates in London and internationally through our access to corporates initiative.
Live leads for specific business opportunities in North America, Europe, China and India.
The opportunity to join high-profile targeted trade missions led by our team of international business experts.
A dedicated Trade Manager who will be your main point of contact throughout your journey.
As a business owner, you get used to people or growth schemes over-promising and mostly under-delivering. The Mayor's International Business Programme has been the single best piece of external support that Hiver has had since launch.

Hannah Rhodes
Founder and MD
A step-by-step guide to the programme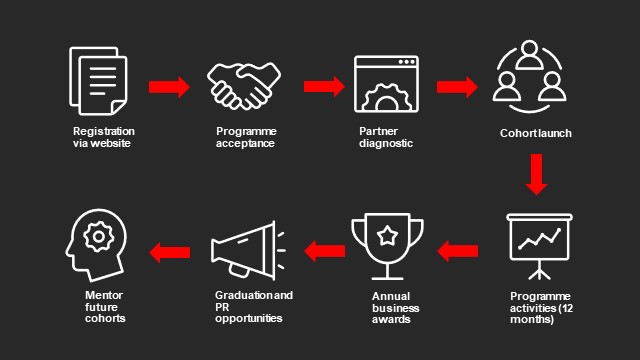 Is my business eligible?
The programme is open to fast-growing companies in London who operate in the following sectors:
Finance, business services and tech
Creative
Urban innovation
Life sciences
Your business will also need to:
Have between ten and 250 employees.
Be generating revenues of more than £1m per annum.
Demonstrate steady growth with active projects, domestically or internationally.
Continued support and advice
When you complete the Mayor's International Business Programme, your journey doesn't end there. That's where our Alumni Community comes in.
Our community will continue to nurture your business growth ambitions through events and networking opportunities.
There is also the opportunity to be a mentor for future cohorts on the programme.