London Tech Week 2018 – five things you need to know about Europe's boldest festival of tech
Between 11th and 17th June 2018, London becomes the backdrop for a week-long festival of tech and innovation once again. Here's what you need to know about this year's festival.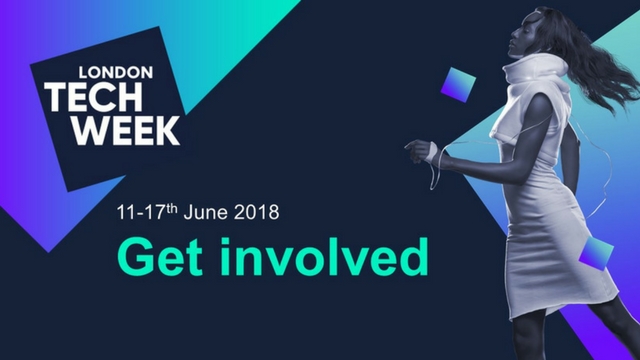 55,000 people from over 90 countries will be attending one of the 300 events and networking opportunities on offer.
Headliners include Jimmy Wales, co-founder of Wikipedia, Martha Lane Fox, co-founder of Lastmunite.com, William Ruh, CEO of GE Digital plus many others.
The LeadersIn Tech Summit is the headline event. It will delve into the macro issues impacting the whole ecosystem. This year's focus is around 'collaborate to flourish faster', looking at how scale-ups and tech giants come together to create a thriving tech ecosystem. You can view all of the events on offer and confirm your place here.
Tech Night Party! Let your hair down at Tech Week's official party, offering a high energy, fun atmosphere including a drinks reception, great music and our very own Unicorn Rodeo. The party will take place at the iconic Shoreditch Town Hall. Get your ticket here.
Download the Tech Week App on the App Store or Google Play. See what's on and where with an interactive map of events across London, network with other attendees, check in to and review events, stay updated with the latest news and much more!
The festival offers infinite possibilities for businesses wishing to be at the forefront of innovation, technology, workplace and culture.  Whether you're a student, a start-up looking for investment, a scale up looking to accelerate development or a corporate looking to innovate – London Tech Week 2018 will provide you with the right forum to network, showcase and drive business.

For information please visit londontechweek.com.