London benefits from excellence and expertise within academia, industry and the National Health Service (NHS) and is a dynamic hub for spinouts, scaling companies and investment.

Home to world-leading universities, hospitals and an expansive patient pool, the region is a growing engine room for translational and experimental medicine, with several National Institute for Health Research (NIHR) Biomedical Research Centres sitting between academia and the NHS and three of England's Academic Health Sciences Centres.
An innovation hub for life sciences & healthtech
Discover London's strengths for AI in life sciences and healthtech.
The Golden Triangle
London sits at the heart of the Cambridge - London - Oxford Golden Triangle within the greater south east of England, providing an outstanding entry point to the UK market, supported by MedCity, which provides a front door to the region's life sciences capability.
Home to the strongest biosciences cluster in Europe of more than 3,700 companies with industry spanning everything from advanced therapies to digital technologies and AI.
The Golden Triangle is home to 508 healthtech startups who have received VC funding since 2016, the biggest cluster outside of the Bay Area (1,161) and Boston (517).
A gateway to academic excellence and talent
A base for world-renowned academic excellence providing sought-after depth and breadth of knowledge. Five medical schools, three dental schools and institutions including the London School of Hygiene and Tropical Medicine and the Institute of Cancer Research.
Five universities in the top 25 for life sciences and medicine globally, including Cambridge, Oxford, UCL, Imperial and King's College London.[1]
185,000 life sciences students and 55,000 graduates across the greater south east of England.[2]
A power house for research and development
140 specialist services[3] and 34 acute trusts including Great Ormond Street, Guys and St Thomas and the Royal Marsden.[4]
A diverse community of 8.3 million patients, a third of whom were born outside of the UK.
A developing landscape for innovation support and infrastructure, including the Francis Crick Institute, the King's Cross Knowledge Quarter, Imperial White City campus, the planned London Cancer Hub, the £250m Dementia Research Institute headquartered at UCL and London Advanced Therapies.
Strengths and specialisms
Advanced therapies
Digital health
Health data research
Oncology
Genomics
Rare diseases
Immunology
Mental health
Neuroscience
See a snapshot of London's life sciences scene
Use the filters in the map to discover the city's ecosystem.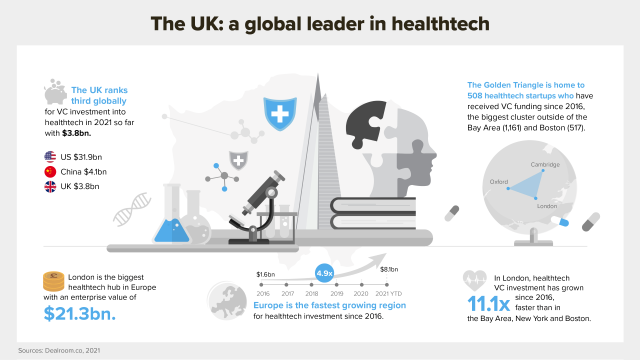 How we can help
London & Partners and MedCity can help you to:
Navigate London's ecosystem.
Connect with academia, industry and the NHS.
Access potential partners and investment opportunities.
Contact us
Find out how we can help you set up in London.