How to find employees in the UK
How to attract talented staff. Discover your responsibilities as an employer.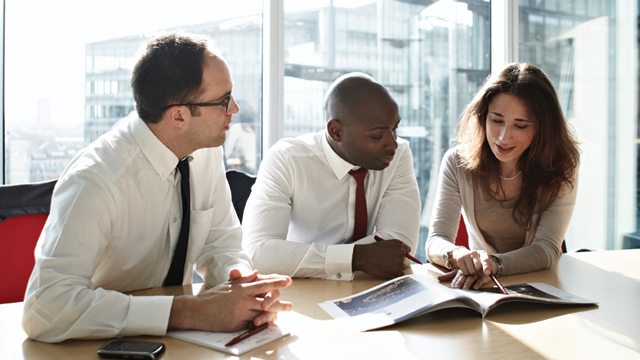 1. Attracting talented staff
Attracting top talent is key to the success of your business. Perks may well help you find employees in the UK and persuade a candidate to choose your company over another.
Medical, life and dental insurance: private healthcare is one of the most common benefits and one of the most valued by employees.
Flexible working: this can include flexi-time, working from home, job share or part-time working.
Annual leave: the statutory minimum for annual leave in the UK is 28 days including bank holidays, but many employers offer more than this, or increase the total annually. Birthday holidays make also be offered.
Stakeholder pension: it is compulsory for employers to offer their employees access to a pension scheme and to make contributions on their behalf.
Transport: a season ticket loan for the price of an annual train ticket is valued by employees commuting by public transport.
Gym membership: a healthy workforce is a productive workforce. Some employers offer free or discounted gym membership.
Childcare: some employers offer a childcare voucher scheme that could provide substantial tax savings on childcare costs
It's been wonderful to recruit from such a talent pool. We found a combination of selling skills, a deep understanding of our global business and a real keenness to build business across London, the UK and the rest of Europe.
Esther Wu, Director of Human Resources, Gorilla Nation
Return to top
2. Sending people over to scope out the UK
The intentions of an individual's visit to the UK, the number of UK 'ties' and the structure of an assignment, visit or move can all have a huge impact on how an expatriate will be taxed. Therefore, it is vital that the structure of the assignment and any tax planning takes place before departing from your home country to ensure the correct and most beneficial tax treatment is applied.
Short Term Business Visitor (STBV) agreements are compulsory (with effect from 6 April 2014).In instances where a UK company has already been incorporated, those UK companies without a STBV agreement in place will be required to withhold UK taxes under the Pay As You Earn (PAYE) regulations for all short term business visitors to the UK.
Companies should consult an expert discuss their specific circumstances before sending representatives to the UK.
3. UK employment law advice
UK employment law is influenced by European employment regulation but does have its own rules and requirements. It is necessary to have an employment contract or written agreement specifying the terms of the employment including pay, benefits, working hours, job description, annual leave, confidential information and restrictive covenants.
There are specific UK employment laws that provide the minimum requirements for any employment. These cover working time directives, statutory sick pay, annual leave, maternity pay and maternity leave as well as non-discrimination on the grounds of gender, age, disability, race, sexual orientation and religion or belief.
Employers also have statutory responsibilities in relation to verifying the employee's identity and right to work in the UK, procedures on termination of employment and withholding tax on pay and benefits.
4. Which contract type to use
There are three types of employment contract:
Permanent contracts are good for fully engaged staff who will commit to your business on a long-term basis. These contracts can be open-ended, full-time or part-time.
Fixed-term contracts are for an agreed period of time, for a specific task. They're good for when you need the right person for the job within the allotted time and budget.
Temporary contracts give you flexibility, with the ability to increase and decrease support at short notice to cater for changes in demand. If you use a recruitment agency to recruit and manage your temporary employees, they will handle the payment of wages, statutory deductions and other related administration.
5. Finding employees
Recruitment agency
Why do it?
Any downsides?

Less stress
Agencies handle the whole process of finding employees on your behalf, including: advertising, sourcing candidates via online databases and social media; screening CVs and interviewing short-listed candidates to assess suitability; co-ordinating interviews and negotiating offers.

Speed
Agencies have existing databases of pre-screened candidates, ready to start work.

Peace of mind
Agencies have an understanding of UK recruitment and employment law, which can prove invaluable. Fees tend to be either success-based or payable in stages, so if your agency doesn't find your ideal candidate, you won't be out of pocket; in addition, most agencies offer a free replacement or rebate clause.

Fees
One-off consultancy fees for permanent and fixed-term recruitment typically range from 15-30% of the candidate's annual salary.
Other sources
Advertising/online sourcing: You can advertise to find employees in the UK on your own website or via online job boards, social media, specialist trade press and local and national newspapers. However, choosing the best platform for your advert or targeting the right people can be difficult and can be expensive and time-consuming to screen applications, interview and hire. No ultimate guarantee of success.
JobCentre Plus: This Government-run employment agency finds candidates for you. Though it can be difficult to find staff with specialist skills or a proven track record.
Colleges and universities: Try contacting the careers department of colleges and universities if you are recruiting around the end of the academic year (May and June) and are looking for graduates for trainee positions. However, this method is less suitable if you need candidates with specific experience.
6. How London & Partners can help
London & Partners is the Mayor of London's official business development company. Our expert team offers free advice on how to find employees in the UK and employment law to potential investors, from start-ups to established companies. We can:
introduce you to London's best recruitment agencies
help you recruit staff with the skills and experience you need
show you how to tap into funding for training and development

Guide to setting up business
PDF - 5.3 MB
Download the complete guide to setting up your business in London
Download
Content provided by
Sending people over, PAYE, National Insurance and UK employment law information provided by Fitzgerald and Law LLP.
How to find employees and contract information provided by People First.
This information is intended for general guidance only. You should always seek professional advice.