Setting up your office space in London
How to find the best office space locations in London for your business and what you need to do to set up your perfect UK office.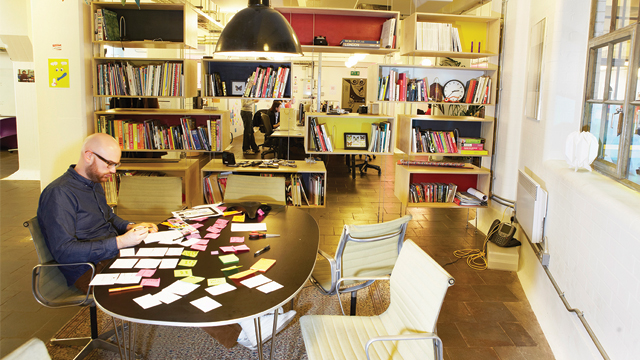 1. Planning the perfect office
Planning your UK office space begins with thinking about how many people you'll need to accommodate, how you'll need to adapt as you grow, and the look and feel you'd like from your office.
Do…
Employ a professional designer and/or project manager. Choose a fit-out company that has experience of setting up overseas companies in London.
Decide whether you are going to replicate your other offices, or adopt a London office space look.
Decide if you need separate offices or open-plan. What about meeting rooms or any unique specifications?
Consider your IT needs: server rooms, video conferencing and laptop or PC-based solutions.
Think about how your London office could attract the right talent.
Don't…
Attempt to deal with the statutory regulations, contractors and suppliers yourself.
Assume additional office space can be added as the business expands.
Assume that London office services and costs will be the same as your home market.
Rush. It's important that you set a realistic timetable and understand how long the search, negotiation and fit-out process is likely to take.
Without London & Partners it would have been difficult to get our new office set up. Frankly, we probably wouldn't have done it.
Anthony Pereira, CEO, altPOWER
Return to top
2. Negotiating a lease
The UK's standard office leasing practices are based upon UK land law. It's always best to seek advice from professionals who can navigate these practices on your behalf. The key things to consider include:
Rent reviews: most leases allow the landlord periodically (typically every five years) to increase the rent.
Rent-free periods: the length of any rent-free period will depend on the overall terms of any transaction.
Lease length: 5 to 15 years is typical, although break clauses can be negotiated.
Insurance and repairs: a professional team should make sure that your premises are in good condition, and negotiate insurance and repair liabilities.
Ancillary costs: explore rates, value-added tax, stamp duty, Land Registry fees and service charges on multi-tenanted buildings.
3. Serviced office costs
If your business can't commit to a long-term lease, a serviced office is an ideal option. Use our quick guide to serviced office costs per month across London.
| | | | | | |
| --- | --- | --- | --- | --- | --- |
|   | Central London | North London | South London | East London | West London |
| Top | £900 - £1,100 | £550 - £600 | £350 - £400 | £350 - £400 | £450 - £500 |
| Middle | £700 - £900 | £400 - £550 | £300 - £350 | £300 - £350 | £400 - £450 |
| Bottom | £500 - £700 | £350 - £400 | £250 - £300 | £250 - £300 | £350 - £400 |
4. How London and Partners can help
London & Partners is the Mayor of London's official business development company. Our expert team offers free advice to potential investors, from start-ups to established companies. We can:
help you find the best London office location for your business based on your needs, London demographics, access to suppliers and key customer markets
connect you to our professional network of commercial property agents, lawyers and architectural/workplace planning consultants
provide discounted desk space for your first 12 months through our Touchdown London service

Guide to setting up business
PDF - 5.3 MB
Download the complete guide to setting up your business in London
Download
Content provided by
Planning your office information provided by Progress Work Place Solutions.
Negotiating a lease information provided by Knight Frank.
Serviced office costs information provided by Avanta.
This information is intended for general guidance only. You should always seek professional advice.
Find out more