The Open Innovation Fellowship is a series of world-class executive education core modules delivered across four months, ranging from open innovation strategy, operating models, culture and more. It is also a community of senior innovation leaders with a demonstrated commitment to change, who have the ambition to transform the innovation landscape both within their organisations and in the wider community.
The Open Innovation Fellowship allowed me to refresh my framework for innovation by giving me the tools to better track and interrogate the status of innovation activity across my organisation and clearly identify our business priorities.

Katie Mills
Head of Innovation UK&I, Schneider Electric
The Fellowship offers:
A specific action plan to fulfil the open innovation ambitions of the Fellows organisation.
Support in developing a comprehensive understanding of design thinking, an innovation mindset and guidance on how to implement this in the Fellows organisation.
A thorough understanding of London's innovation and technological ecosystem.
An extensive network of innovators from diverse sectors and communities across London, with ongoing access to them through the Alumni community.
Access to businesses across London and the world with which to collaborate.
Become a Fellow
Apply now or speak to a member of the Open Innovation Fellowship team for more information.
About the Fellowship
Led by London & Partners, the international trade, investment and promotion agency for London, and the Royal College of Art, the Fellowship provides world-class executive education with real-world immersive sessions, peer-to-peer learning and highly-focused networking.
Each cohort is a group of no more than 20 exceptional leaders, with 40 hours of content spaced over a four-month period.
Next cohort start date:
Autumn 2021
Want to find out more?
Access information on who is the best fit to join the Fellowship, module breakdowns, the application process and more benefits to being a part of the Open Innovation Fellowship community.
Why take part?
Fellows will receive curated workshops, bespoke support and a cohort model that fosters collaboration, allowing all members to develop their open innovation potential, whilst also becoming part of an exciting, ambitious and high-profile innovation strategy for London.
You'll graduate with a refreshed open innovation strategy: informed by global best practice, validated by industry experts and with senior level support to make it happen.
Become a Fellow
Apply now or speak to a member of the Open Innovation Fellowship team for more information.
Open Innovation Masterclass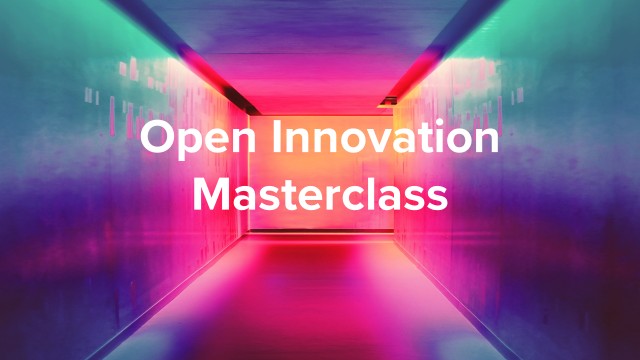 Understand the principles of open innovation and how it can unlock radical innovation in your workplace with London & Partners and Dr Nick de Leon.
Presented by London & Partners in collaboration with the Royal College of Art, the Open Innovation Masterclass will introduce you to the principles of open innovation, and equip you with the critical tools required to take a more outward and open approach to generating ideas, transformation and growth.
We don't just have to innovate to survive, we have to innovate how we innovate... but you can't do it on your own. There is more knowledge and expertise out there than any company can own or even control. Innovation has to be collaborative. That is why open innovation is not just important, it's a necessity.

Dr Nick de Leon
Executive Education & Knowledge Exchange Lead, Royal College of Art
Through leveraging this Masterclass, mid-level professionals can accelerate their innovation ambitions by understanding the core principles that underpin open innovation and its role in business transformation.
The Masterclass offers:
An introduction to the principles of open innovation, its opportunities and challenges.
A clear assessment of the success factors for open innovation, informed by the latest global thinking on innovation.
A refreshed strategic approach to your role, developed with input from global innovation experts and peers.
The tools to track innovation activity and progress across your workplace.
An understanding of how inclusion and diversity apply to open innovation and how you can bring new diverse ideas into your organisation.
How will you learn?
The programme is delivered by London & Partners in collaboration with leading academics from the RCA.
Learning will take place live and online in two sessions of three-and-a-half hours over two days.
The sessions will include a combination of keynote lectures and a series of practical exercises.
Discover more
Find out more and secure your place on the Royal College of Art's website below.
In partnership with: